Products
> Awakken Lemon Ginger Natural Soap with French Green Clay
---
Products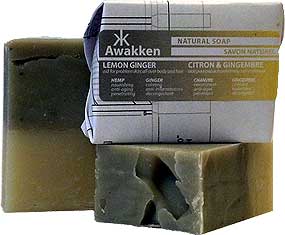 Awakken Lemon Ginger Natural Soap with French Green Clay
Luxuriously refreshing this bar uses gingergrass essential oil and natural french green clay! Contains only saponized all natural pure nourishing oils.
$4.40 / 3oz/90g bar
Retail: $4.99 ea


This bar combines the authetic Savon de Marseille with natural French Green clay and scents of the Mediterranean to create a genuine mediterranean experience.
Savon de Marseille has been used in France for generations to clean everything from linens to babies' skin. The soap got its name because the city of Marseille, on the southern coast of France, was one of the most important soap-making centers of the Mediterranean. Authentic savon de Marseille is 72 percent olive oil plus coconut and palm oils. It is long lasting, completely biodegradable, and has never been tested on animals.
The addition of French green clay - a natural clay hidden deep beneath the earth's surface - helps absorb oils and gives the soap a slick, soft feel. French Green Clay contains a large amount of nourishing minerals, including: Calcium, Potassium, Silicon and Copper. The detoxification properties also help to reduce and eliminate free radicals from the skin. It's said to have the ability to draw toxins from the skin while the body absorbs the minerals it needs to aid healing and restore vitality, which is why it is one of the most popular bases for facial masks. The clay also creates the sage color found on a lot of the traditional savons de Marseille.
Long lasting and environmentally friendly. 100% biodegradable.
Keep the soap dry between uses to extend its life. Do not leave it sitting in water.
Each bar weighs an average of
90gr/3 oz
Remember to keep out of eyes; natural soap will sting eyes. Flush with running water if soap comes in contact with eyes.
INGREDIENTS/INGRÉDIENTS: saponized natural oils of/huiles naturelles saponifiées de: Olea europaea (olive), Cocos nucifera* (coconut/noix de coco), Elaeis guineensis (palm kernel/palmiste), Ricinus communis* (castor seed/graines de ricin), Butyrospermum parkii* (shea butter/beurre de karité), Cannabis sativa (hemp seed/graines de chanvre), Azadirachtin indica (neem oil/huile de margousier), french green clay/argile verte, essential oil of/huile essentielle de: Cymbopogan Martini var sofia (gingergrass/herbe de gingembre), Mentha arvensis (peppermint/menthe poivrée), Cymbopogon flexuosus (lemongrass/citronnelle), Lavandula angustifolia (lavender/lavende), Rosmarinus officinalis (rosemary/romarin)
*certified organic ingredients
MADE IN CANADA
No animal testing. Biodegradable.

Made from all natural ingredients; there may be color variantions from batch to batch.
Retail : $4.99 ea

Price subject to change without notice.

3oz / 90g
full size individual bar
$4.40
3 pack
3x full size 3oz/90gr bars
$11.25
sample
mini sample size approx .5oz/14g
$0.98
Case
24x full size 3oz/90gr bars
please allow 6 weeks
$85.00
Fundraising & Wedding Favors
Please inquire about soaps for fundraising, wholesale, shower and wedding favors.
Click here
to return to your list of Products.
People who have purchased this item, also purchased...

Featured Products