Products
> Awakken Good Night Fizzy Bath Cube - Lavender
---
Products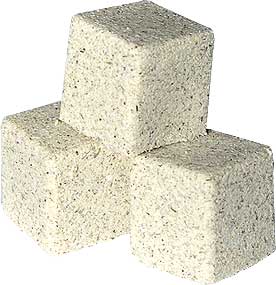 Awakken Good Night Fizzy Bath Cube - Lavender
Dissolves into a multitude of tiny bubbles, with bursts of grapeseed oil to moisturize your skin, and lavender essential oil to help your relax.

1.5 oz / 43g Cube

$2.50
Natural fizzy bath cubes are fun to use and filled with natural salts, clay, oils and essential oil for an aromatherapy experience that detoxifies and leaves your skin ultra-moisturized!
Use:
Drop a natural fizzy bath cube into warm water to start fun fizzing action and release nourishing minerals and pure oils and essential oils.
Les bombes éffervescentes naturelles sont agréables, parfumées aux huiles essentielles pour une expérience d'aromathérapie qui revitalisent la peau !
Mode d'emploi:
Ajouter au bain chaud pour commencer le pétillement amusant et dégager les minéraux et les huiles essentielles.
INGREDIENTS/INGRÉDIENTS: baking soda/bicarbonate de soude, epsom salt/sel d'Epsom, citric acid/acide citrique, kaolin clay/kaolin, Vitis vinifera (grape seed/pépins de raisin), dead sea salt/sel de la mer morte, ground lavender flowers, essential oil of/huile essentielle de: lavender

Price subject to change without notice.

1 Cube
One (1) individually wrapped fizzy bath cube (43g/1.5 oz). Keep in cool dry place.
$3.00
4 Cubes
Four (4) individually wrapped fizzy bath cubes (43g/1.5 oz each). Keep in cool dry place.
$10.00
15 Cubes
Fifteen (15) fizzy bath cubes (43g/1.5 oz each), wrapped together in one package. Keep in cool dry place.
$25.00
Click here
to return to your list of Products.
People who have purchased this item, also purchased...

Featured Products