Products
>
Hair / Cheveux
> Comfrey Mint Shampoo Bar
---
Products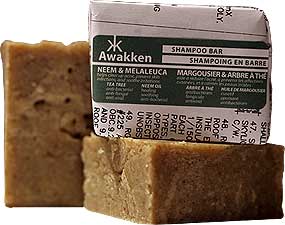 Comfrey Mint Shampoo Bar
A refreshingly scented conditioning all over body soap well suited to healing skin conditions. Contains only saponized all natural pure nourishing oils.

3oz/90g bar

$4.95
Retail: $6.99 ea


Comfrey, also known as "knit bone" for it's ability to heal even broken bones, is used as a natural aid to expedite the healing process.
In addition, Neem oil has been used for centuries in traditional Indian Medicine to aid in the healing of topical skin disorders such as eczema, psoriasis, rashes, burns and acne.
Awakken's comfrey mint shampoo bar is a solid lathering and conditioning shampoo that can be used daily in hair and all over body as an aid in healing skin conditions, and soothe irritations without causing stress to dry skin. It is an all-over body soap which can also be used on face and hair; leaving hair shiny and strong.
Neem oil shampoo is a natural insect repellant and prevents lice infestation, particularly beneficial for children attending school.
INGREDIENTS/INGRÉDIENTS: saponized natural oils of/huiles naturelles saponifiées de: Olea europaea* (olive) infused with/infusé de: comfrey leafs/feuilles de comfrey; Helianthus annuus* (sunflower seed/graines de tournesol), Cocos nucifera* (coconut/noix de coco), Ricinus communis (castor seed/graines de ricin), Azadirachtin indica (neem/margousier), essential oils of/huiles essentielles de: Mint/Menthe*, Cymbopogon flexuosus* (lemongrass/citronnelle)
*certified organic ingredients
Our Comfrey is wild harvested.
Retail : $6.99 ea

Price subject to change without notice.

3oz / 90g
full size individual bar
$4.95
3 pack
3x full size 3oz/90gr bars
$12.85
sample
mini sample size approx .5oz/14g
$1.25
Case
24x full size 3oz/90gr bars
please allow 6 weeks
$90.00
Fundraising & Wedding Favors
Please inquire about soaps for fundraising, wholesale, shower and wedding favors.
Click here
to return to your list of Products.
Featured Products


Lavender Rosemary Shampoo Bar
A soothing soap for healthy skin and hair. Contains only saponized all natural pure nourishing oils.
3oz/90g bar
$4.50