Products
>
Hair / Cheveux
> Green Tea All Natural Shampoo Bar
---
Products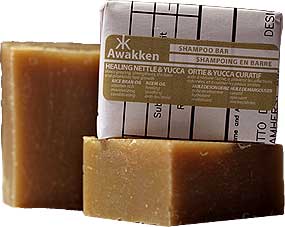 Green Tea All Natural Shampoo Bar
This bar is thoroughly cleansing; a great bar to remove chemical buildup of commercial shampoos that cause hair loss and dandruff.

3oz/90g bar

$4.95
Retail: $6.99 ea


Jammed packed with oils and herbs that help strenghten and treat oily hair, reduce hair loss, enhance hair growth and slow the graying process while keeping hair healthy with green tea extract.
Long lasting and environmentally friendly. A better value than most all natural liquid baby shampoos shampoo bars last much longer and do not require preservatives to offset the water content.
Keep the soap dry between uses to extend its life. Do not leave it sitting in water.
Remember to keep out of eyes; natural soap will sting eyes. Flush with running water if soap comes in contact with eyes.
Each bar weighs an average of
3 oz
/ 90g
Keep


INGREDIENTS/INGRÉDIENTS: saponized natural oils of/huiles naturelles saponifiées de: Olea europaea* (olive), Helianthus annuus* (sunflower seed/graines de tournesol), Cocos nucifera* (coconut/noix de coco), Ricinus communis (castor seed/graines de ricin), green tea extract, essential oils of/huiles essentielles de: Orange*, Rosmarinus officinalis* (rosemary/romarin), Vitamin(e) E.
*certified organic ingredients
MADE IN CANADA
No animal testing. Vegan. Biodegradable.
3oz / 90g
full size individual bar
$4.95
Qty:
3 pack
3x full size 3oz/90gr bars
$12.85
Qty:
sample
mini sample size approx .5oz/14g
$1.25
Qty:
Case
24x full size 3oz/90gr bars
please allow 6 weeks
$90.00
Qty:
Fundraising & Wedding Favors
Please inquire about soaps for fundraising, wholesale, shower and wedding favors.
Click here
to return to your list of Products.
Featured Products


Lavender Rosemary Shampoo Bar
A soothing soap for healthy skin and hair. Contains only saponized all natural pure nourishing oils.
3oz/90g bar
$4.50