Products
> Rhassoul Clay HandMade All Natural Soap
---
Products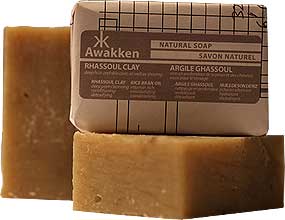 Rhassoul Clay HandMade All Natural Soap
Super smooth and creamy lather perfect for shaving! Clay is also a deep pore conditioning and detoxifying cleanser.

3oz/90g bar

$3.85
Retail: $4.99 ea


Deep pore cleansing, and deeply detoxifying, with a rich lather; ideal for all skin care; face, body and even hair! The slippery smooth feel of this lather also makes it great for shaving.
Rhassoul clay is mined deep beneath the Atlas Mountains in Eastern Morocco and has been used for over 1400 years as a soap, shampoo, and skin conditioner. Today the finest spas across the globe utilize it for therapeutic benefits.
Rhassoul cleanses gently by absorbing impurities and excess oil.
The natural benefits of rhassoul clay are suitable for all skin types, including: eczema, psoriasis, acne, dry or oily patches, as well as dandruff, thinning and fine hair.
Long lasting and environmentally friendly. A better value than most all natural liquid baby shampoos shampoo bars last much longer and do not require preservatives to offset the water content.
Keep the soap dry between uses to extend its life. Do not leave it sitting in water.
Each bar weighs an average of
100gr/3.5 oz
Remember to keep out of eyes; natural soap will sting eyes. Flush with running water if soap comes in contact with eyes.
INGREDIENTS/INGRÉDIENTS: saponized natural oils of/huiles naturelles saponifiées de: Olea europaea (olive), Cocos nucifera (coconut/noix de coco), Ricinus communis (castor seed/graines de ricin), Oryza sativa (rice bran/son de riz), Prunus amygdalus dulcis (sweet almond/amande douce), ground oats/avoine moulu, rhassoul clay/argile ghassoul, essential oils of/huiles essentielles de: Pogostemon cablin (patchouli), Cedrus atlantica (cedarwood/cèdre), Pinus pinaster (pine/pin)
*certified organic ingredients
MADE IN CANADA
No animal testing. Biodegradable. Vegan.

These soaps are made from all natural ingredients, as such there may be slight color variances from batch to batch.
3oz / 90g
full size individual bar
$3.85
Qty:
3 pack
3x full size 3oz/90gr bars
$9.65
Qty:
sample
mini sample size approx .5oz/14g
$1.00
Qty:
Case
24x full size 3oz/90gr bars
please allow 6 weeks
$68.00
Qty:
Fundraising & Wedding Favors
Please inquire about fundraising, wholesale, shower and wedding favors.
As low as $2.25/ 3oz bar minimum 100
Click here
to return to your list of Products.
People who have purchased this item, also purchased...


Soothing Calendula HandMade All Natural Baby/Sensitive Skin Soap
Creamy luxury, unscented, perfect for sensitive skin such as baby's! Contains only saponized all natural pure nourishing oils.
3oz/90g bar
$3.25
Featured Products